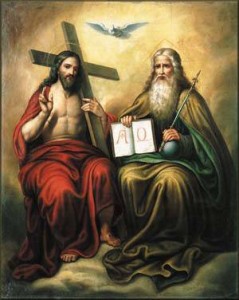 Braćo i sestre!
Ponajprije duboko poklonstvo pred istinom i stvarnošću postojanja Boga, u kojemu živimo, mičemo se i jesmo. Tajnu postojanja Boga objavio nam je Isus Krist, vječni Sin Očev, koji je jedini vidio Boga. Danas svetkujemo tajnu svoga postojanja, neizrecivu Osobnost, jedinu
cjelovitu Osobnost, iz čije ljubavi sve postade, koji svakom stvorenju daje njegov identitet i smisao. Nedokučivost Njegova, nam vremenitima, izrečena je njegovim imenom pred Mojsijem: "Ja jesam!" mi vremenska bića izgovaramo to za sebe u različitim vremenskim oblicima: bio sam, jesam i bit ću! U Bogu je to sve: "Ja jesam!" Stvoritelj, Otkupitelj, Posvetitelj ili Otac, Sin i Duh Sveti, tri su osobe jedne
Božanske naravi. Razumu nedokučiva istina. Isus poziva na vjeru: "Vjerujte u Boga i u mene vjerujte! ( Iv 14,1). Zato sam na početku razmišljanja pozvao i sebe i vas na duboko poklonstvo pred tajnom Trojstva. Vjera prigiba i duh i tijelo da se poklone Neizmjernom i Svetom, da mu  iskazuje ljubav i zahvalnost za objavu i postojanje, ali i za neshvatljivu ljubav otkupljenja u Isus Kristu i za pripravljenu baštinu Kraljevstva njegova. Sav je Bog za čovjeka, jer "Njegova  su radost djeca čovjekova!" (Izr 8, 31). Kao stvorove svoje posinio nas je Bog u Sinu: " Gledajte koliku nam je ljubav darovao Otac: djeca se Božja zovemo i jesmo." ( 1. Iv 3,1).  "U ovom se očitova ljubav Božja u nama: Bog Sina svoga jedinorođenoga posla u svijet da živimo po njemu." ( 1. Iv  4,9) "Po ovom znamo da ostajemo u njemu i on u nama: od Duha nam je svoga dao!" ( 1. Iv 4,13).
Na krštenju smo postali djecom Božjom, kršteni u ime Presvetog Trojstva: Oca, Sina i Duha Svetoga.  Najbolji način ispovijedanja naše vjere je ostati ono što smo po krštenju postali: djecom Božjom. Proslavimo svetkovinu Presvetog Trojstva u dubokom predanju njegovoj ljubavi, a tko Boga ljubi čuva zapovijedi njegove.
Vaš Župnik